Al Habtoor Motors appointed distributor for the UAE by one of the world's largest oil Companies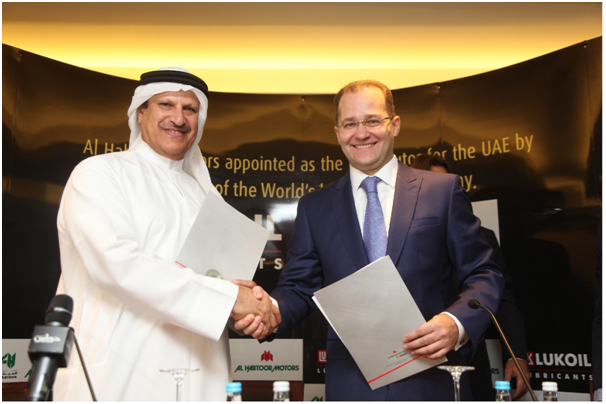 Al Habtoor Motors is teaming up with LUKOIL, one of the world's largest oil companies, to be the UAE distributor of LUKOIL automotive oils and lubricants, as it expands on its ever growing product portfolio in the UAE's automotive sector.
The announcement was made at a press conference at the Waldorf Astoria Dubai Palm Jumeirah on Thursday 4th December, 2014 in the presence of Sultan Al Habtoor, President, Al Habtoor Motors; Karl Hamer, Managing Director and other senior management from Al Habtoor Motors. Present from the oil giant was Maxim Donde, Global head of LUKOIL lubes; Victor Zhuravskiy, CEO, Marine lubes; June Manoharan, Regional Director Marine lubes and Joginder Singh Dahiya, Sales Director of Auto Lubes.

LUKOIL, which is listed on the London Stock Exchange, is engaged in the exploration, production, refining, marketing and distribution of oil. Karl Hamer, Managing Director, Al Habtoor Motors said, "When we were approached by LUKOIL, I was surprised that one of the world's largest oil companies was not present in the UAE automotive market. We have partnered with LUKOIL to bring a new dimension to our business. More and more business partners are turning to Al Habtoor Motors recognising our achievements in the automotive industry.

Sultan Al Habtoor, President, Al Habtoor Motors added, "Al Habtoor Motors has teamed up with some of the best-known brands in the business. LUKOIL is a major global brand to add to our portfolio and we look forward to a strong partnership." Oil and lubricant production and sales are an important part of LUKOIL's business. In 2005, LLK-International (LUKOIL Lubricants), a company 100 per cent owned by LUKOIL, was formed, and lubricants became an independent business unit. LUKOIL Lubricants currently controls the manufacturing of more than 40 per cent of all lubricants produced in Russia, amounting to around 1.2 million tons. The company sells more than 1,000 different kind of lubricants for the automotive sector, heavy-duty transport, mining, power generation and general engineering in more than 40 countries. LUKOIL's exhaustive product range includes passenger car oils, motorcycle oils, diesel engine oils, coolants, ATF, industrial oils, hydraulic oils, metal working fluid, marine lubricants, transmission oils, turbine lubricants, circulating oils, brake fluid and Industrial oils. In addition to having approved by API, LUKOIL lubricants have OEM approvals from all leading OEM's, including Porsche, BMW, MAN, MACK, Mercedes Benz, SCANIA, Cummins, Volkswagen, FORD, General Motors, Renault, , SIEMENS, WARTSILA, ZF, Detroit Diesel and many more.