KABAYAN 3RD ANNIVERSARY SPONSORSHIP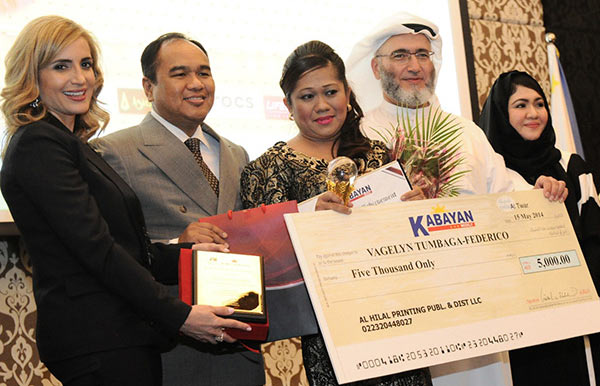 Al Habtoor Motors sponsored the 3rd anniversary celebration of Kabayan Weekly,the only weekly ePaper for the Filipino community in the UAE, on 15th May 2014 in Address Hotel, Dubai Marina. Part of the Al Hilal Private Nursing & Medical Services, Kabayan weekly provides coverage of local issues, politics, events, celebrations, people and business targeted specifically to the Fillipinos in the UAE.
The anniversary event that aimed at honoring 12 nurses and 12 business achievers from the Fillipino community was attended by esteemed guests like Fillipino Ambassador to the UAE, Ms. Grace Relucio Princesa, The Board of Directors of Kabayan Weekly and the Executive Manager- Mr. Ahmad Saqr Al Merri, Mr. Atallah Habib and Miss Nemia Puyot, Operations manager at Kabayan weekly who played a key role in establishing and growing this platform to a pinnacle of success.
"Al Habtoor Motors has been associated with Kabayan Weekly for over a year now and we are proud to be the Platinum sponsor of its 3rd year anniversary celebration. We would like to thank His Highness Shaik Mohammad Bin Ali Al Nuaimi and His Highness Shaik Rashid Bin Mohammad Bin Ali Al Nuaimi for giving this voice to the 700,000 strong Fillipino community in the UAE and giving Al Habtoor Motors the opportunity to reach out to them. The contribution of Fillipino community in the success story of Al Habtoor Motors and in the development of our brands cannot be expressed in numbers." said Ms. Mersedeh Mahdi, the Director of Marketing for Al Habtoor Motors.
"As one of the largest communities in the UAE, Filipinos have marked their presence in all industries and are one of the significant demographics responsible for Al Habtoor Motors' growth. On behalf of the Al Habtoor family and Al Habtoor Motors Board of Directors, I would like to thank you all for your unwavering trust and loyalty that has led you back to our vehicles year after year, generation after generation." added Ms. Mahdi