The latest heavyweights from FUSO break the ice in the UAE
Al Habtoor Motors expands FUSO's presence in the UAE by introducing a new range of medium-duty trucks - FA, FI and heavy-duty trucks - FJ, FZ series.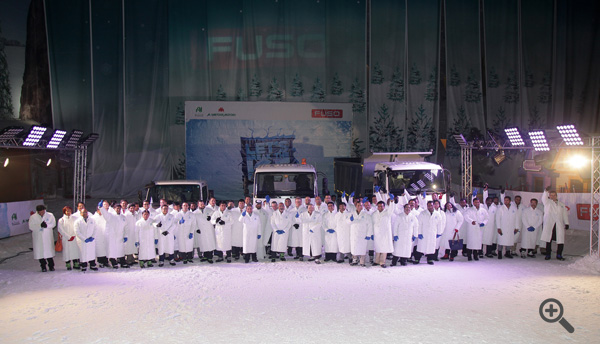 Al Habtoor Motors, the official dealer of FUSO in the UAE has launched the latest fleet of medium and heavy duty trucks that broadens the Fuso range in the UAE. With the addition of this new range, FUSO now encompasses the complete range of pay loads from 3 T to 18T in the rigid range and 40 to 49 T GCW in the Tractor range.

The special "Let's Break the Ice" FUSO launch event held at Ski Dubai was attended by Roland Schneider, President & CEO of Daimler Commercial Vehicles MENA region; Karl Hamer, Managing Director of Al Habtoor Motors and their senior management; specially invited guests and existing customers.

The growing industrial activity in the UAE has seen an increased demand for heavy-duty trucks for special applications. FUSO's commercial vehicles have over the years proved their mettle and have been an integral part of most industrial sectors in the UAE and around the world. The new series fills the gap of niche transportation operations in the different sectors and will enhance FUSO's product presence in the UAE.

Renowned for their trusted quality, solid functional design, economic efficiency, wide choice and committed service, FUSO designs and builds trucks with one aim - to enhance customer profitability. No surprise then that the Fuso trucks are fuel-efficient, safe, comfortable, minimizes driver fatigue and have lower running costs. They also have longer service intervals and better warranty coverage.

"FUSO has always focused on the needs of the customer and here in the UAE the Fuso range has already proved its reliability and profitability in the various sectors. With the all-new robust, fuel- efficient, rugged Fuso range, customers will now have a wider choice of quality vehicles for specialist roles, with significantly lower operating costs. Backed by Al Habtoor Motors efficient customer service support, it's a win-win situation for our customers." said Karl Hamer, Managing Director of Al Habtoor Motors.
The new series of vehicles that were launched during the special launch event featured FZ Tractor Head, FA Medium Duty Truck Chassis, FJ Heavy Duty Tipper and FJ Heavy Duty Truck.

Optimized for long distance operations, the solid, stable and rugged FZ Tractor Head is used for high-speed hauling of 40 - 49 tons category of Trailers, Car Carriers and Containers. With short turning radius, it has great maneuverability and comes with a choice of heavy-duty or fuel saving engines. The FZ series handles heavy and tall loads with great ease.

Built for maximum profitability, the FA Medium Duty Truck Chassis can deliver profits in a variety of Regular Applications like: Cargo Body, Cargo Body with Crane, Freezer, Container in addition to Special Applications like: Garbage Compactor, Skip Loaders, Tipper, Tankers and Aerial Platform. Powered by versatile, high-performance common rail turbo with intercooler engines, the FA series features aerodynamic cab design that saves fuel and reduces cabin noise. While its outstanding climbing and maneuverability enhances utility, the tough, durable chassis and suspension allow heavier loads.

The Heavy Duty FJ series perform in a dual role as a Heavy Duty Tipper and a Truck. It can be used for Regular Applications like: Cargo Body, Cargo Body with Crane, Freezer, Container, Logistics etc. or in Special Applications like: Garbage Compactor, Tipper, Skip loaders, Garbage Compactor, Transit Mixers, Tankers, Aerial Platform. Powered by fuel-efficient engine with high output, flat torque and greater durability, the FJ series feature smooth-shifting 6 speed/ 9 speed overdrive transmission that reduces driver fatigue. Its fully adjustable seats and steering wheel offer the best driving posture.

Roland Schneider, CEO of Daimler Commercial Vehicles MENA region said "Our all-new Fuso trucks have already gained a great reputation in other markets, thanks to their robustness and fuel efficiency. Until now the UAE has been a strong market for FUSO, and I am convinced that the new expanded range will add more choices for our customers, and the market can see Fuso trucks donning new roles in UAE's highly versatile sectors; and with the proven support of Al Habtoor Motors, the new range can ultimately help us to enhance our market-share."
About Al Habtoor Motors
Al Habtoor Motors is the exclusive distributor of Mitsubishi, Fuso, Chery, JAC, Bentley, Bugatti and McLaren in the UAE, and a part of the UAE based diversified multi-billion dirham business conglomerate Al Habtoor Group. Al Habtoor Group has varied interests and substantial investments ranging from Engineering, Real Estate, Hotels, Leasing, Education, Publication and Automobiles.
About MFTBC
Based in Kawasaki, Japan, Mitsubishi Fuso Truck and Bus Corporation (MFTBC) is one of Asia's leading commercial vehicle manufacturers. In 2014, the company sold a total of about 174,600 vehicles, including light-, medium- and heavy-duty trucks and buses. Daimler AG owns 89.29% of MFTBC shares and various Mitsubishi group companies own 10.71% of MFTBC shares. MFTBC is an integral part of the Daimler Trucks Division of Daimler AG.
For more information, please contact:
Marketing Department; Al Habtoor Motors Co. LLC; Tel: + 971 4 608 4000, Fax: + 971 4 269 2545; E-mail: glenda@amcuae.com